Ice rink - Stortorget (The Great Square)
Ice rink - Stortorget (The Great Square)
---
At Stortorget, for the first time, there is an ice rink in place between November 25 and February 27. The ice rink is surrounded by fir trees, sales stalls, market traders and cozy lighting.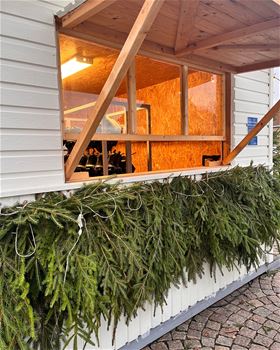 This winter Stortorget has been transformed into a real skating center with a plastic rink, 300 square meters in size, free skate lending, catering and sales.

The plastic ice rink will be in place for three months, between November 25 and February 27.

The ice rink is open 24 hours a day for the public to ride if you have your own skates.

Around the ice rink there are sales booths and association booths.
The association stalls lend skates and sell sausages, coffee and more. It is free to borrow skates. Opening hours in the Föreningsbodarna: Saturday and Sunday from 10.00 a.m. to 3.00 p.m.

The sales stalls include ChocoMania, which sells waffles, crepes and hot chocolate, as well as Bredäng's mustery and cider brewery, which opens a pop-up shop with must and local delicacies. Opening hours in the Sales stalls: Thursday and Friday from 1.30pm - 6.00pm, Saturday 10.00am - 4.00pm, Sundays 12.00pm - 4.00pm.