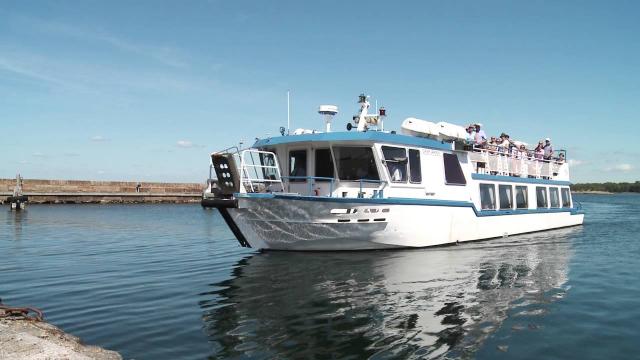 Karlskrona offers fantastic experiences in unique environments. There are a variety of interesting guided tours to choose from. Karlskrona's talented world heritage guides take you to exciting and unique places.
It is possible to book guided tours at Karlskrona Tourist Center all year round.
Guidade turer - Marinmuseum
Följ med Marinmuseums guide på en visning av Marinmuseum eller en introduktion till Marinmuseum eller välj någon av de många andra spännande turerna. Att komma till Marinmuseum i grupp är ett utmärkt sätt att få det lilla extra av museiupplevelsen.
Guidade turer - Kulturkompaniet
Kulturkompaniets verksamhetsfältet är brett, och erbjuder spännande turer i bland annat Kalla krigets fotspår, stadsvandringar med tema 1700-tal, dramatiserade visningar i Kristianopel och mycket, mycket mer.
Stadsvandringar Karlskrona
Lär känna världsarvsstaden Karlskrona från nya vinklar. Stadsvandringar Karlskrona erbjuder regelbundet guidade turer i centrala Karlskrona. Stadsvandringar Karlskrona arrangerar privata turer och anpassar självklart vandringen utifrån önskemål. 
Guidad båttur - Hop-on Hop-off
Hop-on Hop-off är det perfekta sättet att få ut det bästa av sommaren och de närliggande öarna och destinationerna runt centrala Karlskrona!
Med Hop-on Hop-off konceptet når du en rad spännande platser runt Karlskrona centrum och ön Trossö. Hoppa i land vid någon av destinationerna, sola, bada eller gå på upptäcktsfärd. Åk vidare när det passar dig.
Guidad tur - Temavandringar
Följ med på en osannolik vandring genom idylliska Kristianopel. Ålfiskare, strandridare och alldeles vanligt folk väntar på dig. Temavandringar erbjuder spännande och intressanta guidade vandringar i trakterna kring Kristianopel.
Guidade turer - Skärgårdstrafiken
Följ med på en tur runt världsarvsstaden med M/F Gåsefjärden, en stilla båttur med M/F Axel längs Nättrabyån, upptäck nya spännande öar runt Karlskrona tillsammans med Hop-on Hop-off-båten eller en längre tur ut till Sveriges sydostligaste skärgård. För fler förslag - kolla länken nedan.
Guidade turer - Blekinge Museum
Blekinge Museum anordnar visningar och guidningar inte bara i sina egna lokaler utan i hela Blekinge.
Guidade turer - Olle Melin
Följ med den kunnige guiden Olle Melin på en Björkholmsvandring eller en vandring på Stumholmen.
 
Interaktiva guideturer i mobilen
Gratis guidetur direkt i din smart-phone! Världsarvet Karlskrona förmedlar levande berättelser som du kan lyssna på eller läsa när du är i Karlskrona. Ladda ner Hi-Story appen, sen kan du välja på olika berättelse från olika platser du besöker.
Ladda ner - Apple
Ladda ner - Google Play
Appen - Be here then!
Karlskrona is a historically unique city - the app "Be Here Then" allows us to discover exciting places from the past. How much has really changed and what is the same? With the help of your mobile phone, you are guided around to different places in the World Heritage City and once in place, a picture and stories from past times emerge.