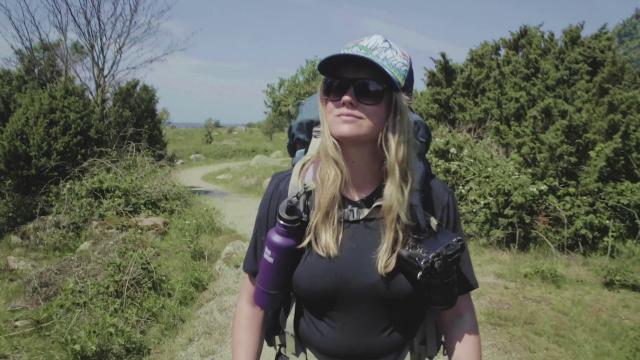 Outdoor experiences
Try something new and discover new places
Have you camped on a desert island or hiked along the Blekinge-trail? Do not miss the opportunities for new experiences all year round in Karlskrona.
Whether you "just" want to enjoy the wonders of nature and the beautiful environments, or be more active by running, cycling or paddling, you will easily find one or more favorites in Karlskrona's wonderful surroundings!
Discover Blekingeleden
You walk through paths, gravel roads and forest areas, straight through Blekinge's heart. The Blekingeled trail is a total of 270 km long divided into 15 different subtrails, each between 9 and 13 kilometers long.
Maps and more information
Island Hiking
Have you tried island hiking? Many of our islands have nice hiking trails along the water.
Visit our archipelago page for inspiration
ARK56
ARK56 is a network of trails in the Blekinge Archipelago, designated a biosphere reserve by UNESCO for its unique natural and cultural heritage. The trails guide you through this fascinating area by bike, on foot, in a kayak or by boat, coming together at 13 hubs where you will find services and can swap mode of transport.
Read more about ARK56
Nature reserves
Nature reserves are created to preserve biological diversity, manage and preserve valuable nature environments or to meet the need for recreation areas. Karlskrona has 25 beautiful nature reserves - Some examples of Nature reserves are Knösö, Torhamn's cape and Södra Flymen.
Read more about Nature reserves
Svenska Orienteringsförbundet
HittaUt
Orientering för hela familjen! Utforska och hitta några av de 100 checkpoints som finns i Karlskrona.
Läs mer
Promenad- och cykeltrim
Med cykel eller till fots besöker man ett antal punkter på en karta och parar ihop dessa med rätt fotografi.
Läs mer
Nature experience from the residents' point of view
Karlskrona and its surroundings are like a beautiful place without a roof. We have furnished it with beautiful beaches and cliffs, walking trails, nature reservs and the ever-present water. Visit the archipelago with a picnic basket, take a dip at Stumholmen in the middle of the city or fish from a boat in the early dawn. Well, we are spoiled, but we will happily share.
Birdwatching
Göran Olsson describes a day on the archipelago island Utlängan, where he gets a fantastic nature experience and enjoys beautiful birds.
An article by Göran Olsson
Discover Torhamn
Join Andreas Mattisson / Nature By Andreas, on his lovely day trip to Torhamn.
An article by Andreas Mattisson
Other activities - Hiking, cycling, kayaking
<% totalCount %> products loaded