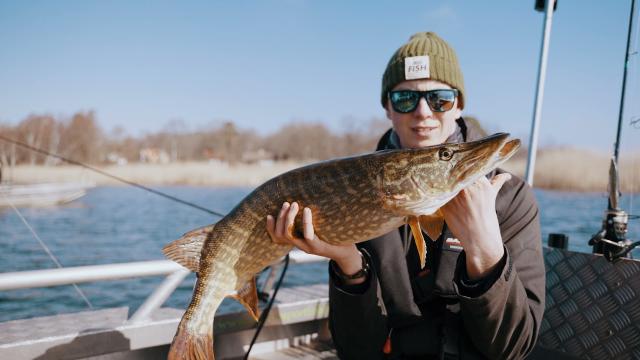 In Karlskrona's beautiful archipelago, you will find a very interesting fishing, primarily for pike.
That's why Karlskrona's archipelago is called "The Pike Kingdom".
 
With boat you will easily reach the best fishing grounds. But fishing can also be conducted from all the islands around the beautiful archipelago of Karlskrona. Fishing occurs by all islands and bays in Karlskrona. You will find both shallow bays and deep rock formations. Learn more about our fishes and fishing below.
In the open sea outside the archipelago, salmon and cod are fished, and rough sea trout live around the islands' and the mainland's headlands. Of course, Karlskrona's rivers, which open into the sea, are good fishing spots for salmon-like fish, and in the lakes within the coast you will find everything from pikeperch, pike, perch and whitefish. Some lakes are well managed put- and take waters where you can fish for high quality rainbow salmon.
Put & Takefiske
In Karlskrona's waters, there is a great chance of catching fine rainbow trout, often in good size.
Read more about Put & Takefiske
Catch & Release
In order to maintain strong fish stocks in the long term, it is of great importance to carry out so-called catch-and-release fishing.
Read more about Catch & Release
Sport fishing shops and useful links: