Adventure weekend bike & hiking - Blekinge outdoor
Adventure weekend bike & hiking - Blekinge outdoor
---
An adventure trip for those who want to discover the world heritage site in Karlskrona and the unique nature of Blekinge by bike or on foot. We have put together a fantastic package of different sights during the stay. During the 4-Day package, you visit Karlskrona city with several destinations. You visit Aspö which is a beautiful island outside Karlskrona, the boat Axel goes to Nättraby directly from Dragsö and takes a lovely walk to Skärva to explore old estate in Karlskrona.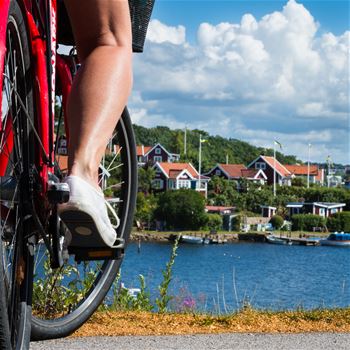 Day 1. Arrival
You are welcome to Dragsö after 15:00. Feel like at home in the cabin or take a lovely bike ride in Karlskrona's beautiful city. The day ends with a dinner in restaurant Havsviken on Dragsö.
Day 2. Cycling
Bicycle ride on the archipelago idyll Aspö. Finish with a visit to the Naval Museum.
Day 3. Hiking
Take the boat Axel from Dragsö to Nättraby and make a lovely walk in the scenic area around Skärva. Then you walk towards Karlskrona town through a vineyard, a military area and our nice park at Wämö. Finish with dinner at Restaurang Havsviken on Dragsö.
Day 4. Hiking and departure day
Just a stone's throw away from Dragsö is Brändaholm, the world's most photographed cottage area. Walk among idyllic cabins with lush gardens. Check-out from the cabin is no later than 12:00. Finish with lunch at Restaurang Havsviken.

Read more on the own website, see prices and what is included in the package, see contact details below.