Antonio's
---
The love of Karlskrona and Italy has shaped the pearl Antonio's - a place where people meet and be inspired - food crafts - good drinks - Neapolitan pizza - fresh pasta - and delicious dishes from the fragrant Italian cuisine.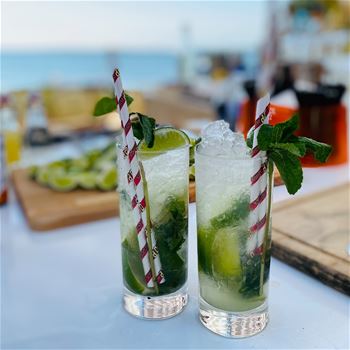 Antonio's is located right next to Borgmästarefjärden in Karlskrona with an idyllic view of the archipelago. Located in the center of the city center, it is within walking distance to the central station and Trossö's parking lots as well as shopping and attractions.

The interior is influenced by Nordic and Italian design with materials and color choices that reflect the maritime location. The tableware fits every conceivable occasion with everything from nice places in the bar, where you as a guest can overlook the open kitchen, to the large "community table" for pleasant dinners. The venue has impressive panoramic glass windows with great views of the archipelago and in the summer time a large glazed outdoor dining area is offered on the boardwalk. In addition, the facade glass sections can be opened in a unique way so that the indoor and outdoor environment coalesce.

Book your table through the link below.